If you're looking for an intense workout machine that won't impact your body and its joints, why not get an compact elliptical trainer?
Last Updated: December 10, 2016 -Steve
Also known as an elliptical trainer (or cross-trainer), this machine is best described as a 'cross between running on a treadmill and, well, doing the moonwalk.'
This exercise machine is best characterized by its over-sized pedals and moving handlebars, which are what helps the machine provide its characteristic full body resistance while you continue pedaling in place.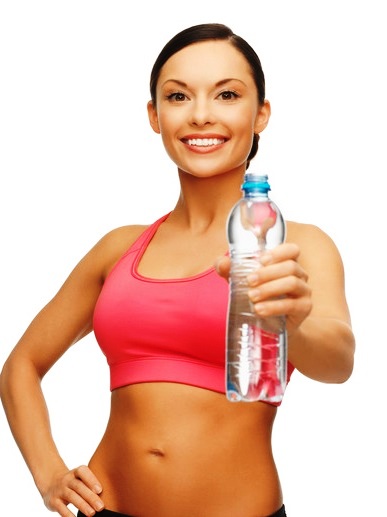 In other words, an elliptical machine is pretty much the best choice for people looking for an all around low impact machine that won't be too stressful on their body or environment. They're best for people who want to avoid the repeated 'pounding' that's often associated with running on a treadmill—pounding that can get rather uncomfortable for a lot of people.
Thanks to elliptical machines, you don't have to experience that pounding anymore.
You don't even have to worry about getting a treadmill or another type of home cardio workout machine since, well, the elliptical can do that for you.
Different Types Types Of Elliptical Machines
All right, so I'm convinced. Can you tell me about the types of elliptical machines I'll encounter while I search retail and online stores? What should I look for in an elliptical machine?
Well, to start, there are three types of elliptical machines.
The first two types we're talking about are both known as rear-drive and front-drive elliptical machines (ref.). On an interesting note about the two, there isn't a definitively 'superior' version between the two machines. Though, some people who have experienced both types have said that front-drive elliptical trainers do give them more of a forward lean that rear-drive ellipticals, who are known to keep people standing more upright.
Rear-drive elliptical, in fact, are the elliptical machines that you'll likely encounter in commercial settings like a gym.
Front-drive ellipticals are the most common machines seen in the home exercise equipment market.
But, both types are seen in both markets, so you don't have to feel like you have to track down certain equipment, just to have one or the other.
As for the third type, that belongs to what's known as the compact elliptical machine. These compact versions of elliptical machines use a center-drive – the third type of drive – that more or less changes much of the structure of the machine.
What it does is places individual drive systems to either side of a person's feet.
As a result, it makes the much smaller in size, though they often have 'twice as many parts' to manage.
Despite that, a compact elliptical machine is probably the best choice of elliptical machine for people who don't have the space for a standard sized one. Of course, the most important part about looking for compact elliptical machines in the first place is finding one that, well, feels great to use.
So, if you can take the time to test it out, test it out!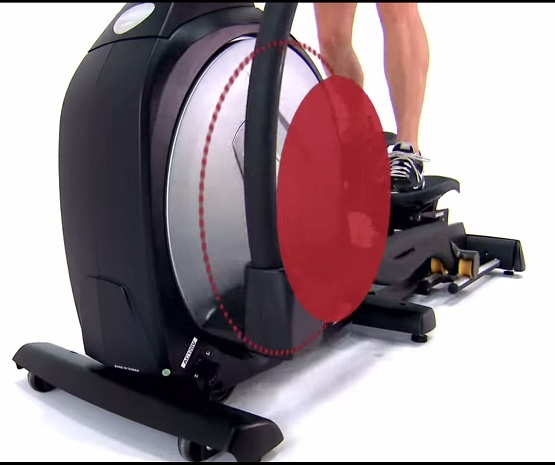 Are Compact Elliptical Trainers Effective?
The compact elliptical machine, huh? Is the compact elliptical machine/cross-trainer just as effective as full sized elliptical machines?
That's a good question.
The main benefit that the compact elliptical machine provides is, well, its space-saving capabilities.
These workout machines simply provide the workout quality that people expect, while allowing them to not have to dedicate an entire room to the machine itself.
Though, when people hear about a compact elliptical machine, they probably immediately wonder if the build quality is like their full sized counterparts.
After all, it's compact, right?
And, the manufacturers probably had to sacrifice some aspects about the full size elliptical machine to make the compact version work in the first place.
To get it out of the way, yes, there are quite a few compact elliptical machines on the market that don't have remarkable build quality. And, that's a concern of a lot of people who might want to get a compact elliptical machine. Some less than models are known to sacrifice build just to accommodate saving space within a home or apartment, something that often makes these models fail to work a lot of the time.
There's a common trend that connects these less than perfect compact elliptical machines together: the price.
When you're shopping for a compact elliptical trainer, keep an eye on the price.
You'll likely have to pay higher prices for a compact elliptical machine that won't break down or fail after a few weeks.
Knowing that is probably one of the most important aspects of shopping for a compact elliptical machine, since, well, you want a compact elliptical trainer that lasts, right?
Popular Models & Features
All right, so what else should I know about the compact elliptical machine? Can you tell me about key features in some of the most popular models in retail and online stores today?
Sure! So, when you're shopping around for a compact elliptical machine, the price does matter.
So, do reviews, but you need to take a closer look at the price first.
Many compact elliptical machines cost as little as $900 to as much as $3,000, so the price range is pretty wide.
The reviews will then tell you if that price it worth it.
It's mainly because, as we mentioned before, the reviews often indicate whether the compact elliptical trainer actually works as advertised. Reviews are pretty reassuring, when you think about it like that.
So, always take the time to read the reviews, if you can.
Now that you've probably read some reviews, let's take a moment to review some of the features you should look for in a compact elliptical trainer.
Many compact elliptical machines do work in much of same way as a standard elliptical machine does, to the point that it's pretty much the same feature set. Quite a few compact elliptical machines do, however, change up some aspects of a standard elliptical machine.
Some compact elliptical machines incorporate wireless features, such as wireless heart rate monitoring or web connectivity via Wi-Fi.
There are some models that may even let you stream music while engaging in a workout!
As nice as those features are, the most important things you should look for in a compact elliptical machine are, features that make that machine durable and suitable enough to use within the confines of your smaller home.
I recently reviewed one of the top selling elliptical trainers (this year), find out more here: The SOLE E35, a good value compact elliptical trainer.