I'm a big fan of Jack LaLanne (with his epic book Live Young Forever), and I've collected a bunch of short quotes about Jack. Jack LaLanne passed away in Morro Bay, CA on January 23, 2011.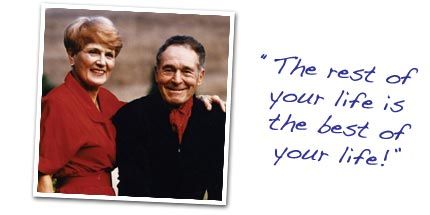 I was truly saddened to hear of this great loss of a truly remarkable individual. I have followed Mr. Lalanne and Mr. Bragg for a long time. It is remarkable to think how much these men achieved in developing " true health" . I have treasured memories of my father ,also Jack, practicing what they preached: As a result, I was lucky , as are my children, to understand and practice the principles layed out by Jack Lalanne .I printed out Jack's early years and am purchasing books-for my children- and I need to get his hat for when I run! I will never forget him and all he did for mankind. Very Sincerely, -B. Kirkpatrick
Jack, your tremendous spirit will forever remain within the hearts and minds of the countless people you have reached. How do you thank someone for showing you the true way to a better life? Priceless insight, especially in this day and age. We can only hope to honor your teachings in living by your example. Thank you for everything. To the Family, please accept my sincerest condolences. We will never forget Jack LaLanne… -Barbara from Slovenia
Jack was such a special person. It has been 7 months since his passing on, and I am still in shock and state of grief. He was a guru to me and I miss him very much. His teachings are forever, and I am a devoted student to his belief in daily exercising and eating wisely. He was a true believer in Life and God and USA patriot. God Bless Jack LaLane. – George
I remember watching his show with my mom when I stayed home from school for a sick day. He was always fun to watch, and made fitness seem like a good idea. As I grew older he set the bar for fitness as far as I was concerned. Now that I am in my fifties, there is no one I would rather look up to in the health and fitness world as my inspiration! God bless Jack Lalanne! -Bobby
I started with Jack in the 50's as a young mother..doing exercises along with him on our little black & white tv..having little resources, I was able to use his 'basic' equipment, a kitchen chair, etc. I have followed him throughout the years and am now a healthy, fit 75-year old..enjoying a good life.
Thanks, Jack! -Eleanor
Why didn't we listen. You were 50 years ahead of your time. Only now are we heading your advice about fitness and clean eating, the only cure for this rampant obesity. Wish you were still here.RIP – Susane
Jack Lalanne and stil is my hero. I am 68 yrd old and recently read about all of the accomplishments Jack did at the age of 70 and older. I recently lost 50 pounds of weight and have been excercising.I realized I was not to old to gett healthy. I have been reading every thing I could find about Jack. I hope it gives you comfort to know that Jack is still influencing lives. Best wishes – Scott
Thank you Jack for your many inspirations on physical nutrition and exercise. Thanks for never giving up. Someone should write a book on the life and times of Jack LaLanne, it would be a must read for me. -Mace
I started "lifting weights" at the age of 13, Today (well, maybe not today) at age 64 I still lift; nothing spectacular – I lack the disipline – and I still advise people of all type to also 'lift". Jack was a part of my life all these years. I took joy in his amazing feats and always told everyone about this incredible man. Whenever I caught him on TV I'd watch a while and smile. Never had the good fortune to meet him but I was there for him as he was for me. The day he passed the World was diminished. He's missed, you can bet your ass on that… -rfd
What a sweet man. I remember watching him on TV when I was very young. He had and infectious smile and winning attitude. You are all in my heart now, may God give you comfort. And if I know anything about anything, I'd bet my house and my kittens on the fact that he's up in Heaven right now seeing just how much the world was a better place because he was here, and to see all the lives he's changed for the better too. Many hugs to you all. -Lisabeth
You are an inspiring person to read about. I just bought your book two weeks before your passing! I am attached to your book, and hearing of your passing was heart breaking! I will continue to follow your 12-steps to staying young! -Cassandrea
I grew up watching Jack's program in the 70's while my mother battled with her weight. She joined the Jack LaLanne gym around that time as well and I remember my mother so enjoying her exercise routine and leaned on Jack for information. Through this, my mother taught me the importance of diet and exercise – a battle I still fight today. Thanks, Jack, for your down-to-earth and inspiring life that touched so many. -Susan
I grew up doing the Chicken Fat song. He was truly an inspiration! I am thankful I lived 53 of the same years he was alive. God give you comfort! ~~ Julie A. Chambers, Wilmington NC
Jack was and continues to be a great inspiration to me. From the time I watched my mom working out in front of the TV broadcasting his show, through my teenage introduction to weightlifting with my older bodybuilding brother singing the praises of Jack LaLanne , to the present when I drag my 55 year old body to the gym, thinking "If Jack could swim to San Francisco from Alcatraz at 60 and tow rowboats at 70, I guess I can pump some iron and run and eat clean. (My girlfriend just walked in and asked why I was crying — I told her it's not crying if the tears don't actually leave your eyes.) Anyway, thanks Jack. You may be gone, but you'll never be forgotten. -Dave
Thank you Jack, for changing my life! I was a young chubby kid and tuned into the Jack Lalanne show mornings before school. I was desperate to change and there was nothing quite like Jack Lalanne. I morphed into a pretty athletic teenager and went on to love and appreciate fitness as a core essential in my life. As an adult, I look to Jack as the guide to "living young". Thank you so much for all you have done! RIP, you will be missed. -Linda
Isn't it funny how someone you never met, never knew can effect you so deeply. I remember my mother on the floor in front of the T.V. exercising to The Jack Lalanne Show. Jack was a staple in my life, I even have his juicer. A man so vibrant and energetic, a inspiration for all. He started what all of us start in January exercise and clean eating. Now instead of listening to all the fad diets that bombard us this time of year, we can remember Jack Lalanne and that is enough to jump start us every year! It would be a hoot to see those old shows again and regain the basics of body, no equipment! -Kathy
Jack will always be my hero and a legend. I have been a Cardiac Rehab therapist for over 20 years and seen so many patients and it tickles my heart to see those with Jack's great attitude and spirit. They are a true joy.
I also encourage those who are not as motivated and use Jack's never-ending zest and quest for health as an example. He will truly be missed. I have his latest book and will always treasure his words of wisdom. -Cathy
Jack, You were an inspiration to us all! You helped millions of us get off sugar and find the benefits on proper nutrition and exercise. I thank you for the bottom of my heart for your passionate message and enthusiasm. I'm very confident your message will continue. My prayers are with your family at this difficult time and may they find peace. May there be comfort in knowing that someone so special will never be forgotten. -Lori
Dear Elaine, Dan, Jon and Yvonne, I started exercising with Jack when I was in my early 20's and a young mother. I have exercised my whole life and am now 82 years old and still exercising with Jack and you, Elaine, with CD's I ordered from the public TV channel "Eight" in Mesa, Az. You have kept me fit all these years, and although I have the usual problems with old age, I teach aerobics four times a week in the retirement home where I live. It is very gratifying to see seniors keeping as mobile as possible through exercise. I loved Jack and you, Elaine. Thanks you from all humanity for the role models you both were. We are sorry to have lost him but he will live in my heart forever. Love, Annie Bell
Jack was an amazing man who touched countless lives, mine included. Thinking of your family and hoping that his huge presence in the world over the past (almost) century will bring you comfort. He lived a wonderfully long, healthy, inspirational life, and will continue to be an inspiration for generations to come. Sincerely, Kim
Bob's energy, spirit, intelligence, humor and spirit of giving made him the life of the party. A good man who will be missed. – David
Read more about Jack LaLanne here.